I don't really have the time  available to do as extensive a "best of" list as I've done in some past years, but just for fun here are a few of my favorite comics- and drawing-related things from last year. Note that I'm listing my favorite things, not the best things; these are just things that I happened to enjoy this past year. Some of these are things that appeared in 2014. Other are old things that I just discovered or re-discovered in 2014.
---
Webcomic – The Creepy Casefiles of Margo Maloo by Drew Weing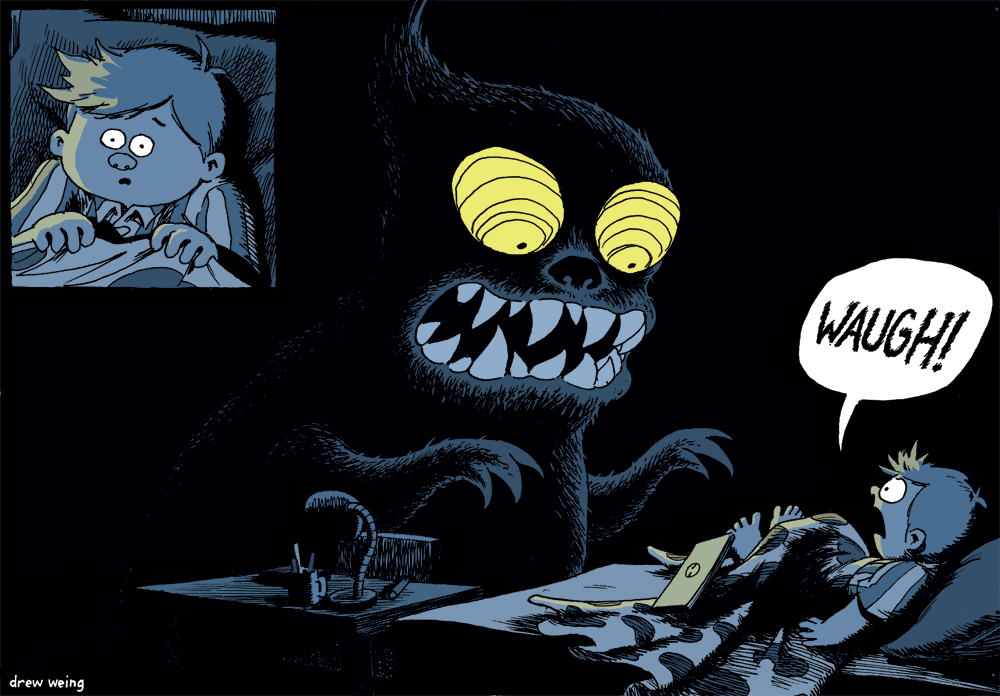 It was great to see a new comic from Drew Weing in 2014.  This is a wonderful all-ages comic about a kids, monsters, and "paranormal investigator" Margo Maloo. The drawing's beautiful and the story is a ton of fun. I've read it twice so far–once on my own and once to my daughter–and we both loved it.
Find it here.
Podcast – Rachel and Miles X-Plain the X-Men
This podcast launched in the spring and I've been a loyal weekly listener ever since. The hosts of the show, Rachel and Miles, are X-Men fanatics. They've been going through the series (and some of its offshoots, mini-series, etc.) in roughly chronological order and discussing them in exhausting–and often hilarious–detail. I've read only a small fraction of the material they discuss, but it's a blast to listen to anyway.
Find it here.
Reread – X-Men: The Dark Phoenix Saga – by Chris Claremont and John Byrne
Speaking of the X-Men… The X-Plain the X-Men two-part episode on the "Dark Phoenix Saga" prompted me to go back and re-read the collection. I hadn't read any of this stuff since it came out in the 80s and it was a ton of fun to re-read. Other than maybe God Loves, Man Kills, this is the definitive X-Men story arc–and I think I'll always favor it over God Loves just because it's the classic Claremont/Byrne combo.
On Comixology here.
Tumblr – Fabien Mense
Fabien Mense is a French cartoonist who's pretty much at the top of my "why is no one translating this person's work into English?" list. Even if you can't read French, it's worth picking up his series, Agito Cosmos, from Comixology just to look at the beautiful artwork. You can find his work in a lot of different places online, but his tumblr is a great place to start. Check out some of his amazing (and befuddling) process videos to find and subscribe to his YouTube channel.
On Tumblr here.
YouTube – Croquis Café
Like a lot of us, I really need to do more figure drawing. That can be a tall order, though, depending on your schedule, location, and finances. While it's not a perfect substitute for in-person life drawing, the Croquis Café is pretty darned close. It's a fantastic resource. I favor the longer videos, which are about 20 minutes long usually and start with very short poses that gradually increase to a final five-minute pose. I'm mainly interested in working on gesture and line of action, so this format is perfect for me.
Find it on YouTube.
All Ages GN – Jim Curious: A Voyage to the Heart of the Sea by Matthias Picard
The cover is one of the few images I could post for this book, since the majority of its pages are in glorious 3-D. Put on one of the two pairs of included 3-D glasses and be immediately blown away by this cartoonist's gorgeous,  intricate undersea landscapes. The narrative is charming as well; it's not so much a story as a visual exploration.  Tone-wise it reminded me a bit of Crockett Johnson's children's books. Every person I've shown this book to has been completely floored by it.
Buy it here.
GN – Doctor Strange and Doctor Doom: Triumph and Torment – Roger Stern, Mike Mignola, and Mark Badger
This Marvel stand-alone graphic novel came out in 1989, but I'd not heard about it until just this year. Dr. Strange and Dr. Doom team up and go (literally) to Hell to fight demons in a story written by Roger Stern, penciled by Mike Mignola, and inked/colored by Mark Badger? Sold! This book's a ton of fun and stars Marvel's two best occult characters. The old-school coloring by Badger is absolutely gorgeous and it's really interesting to see Mignola finding his style pre-Hellboy. This book was out of print for a long time, but is now available again.
Buy it here.
GoComics Account – Origins of the Sunday Comics – Curated by Peter Maresca
There are several interesting historical accounts currently running on GoComics, most notably Peanuts and Little Nemo running chronologically from the beginning, but this one is my absolute favorite. The account updates a few times a week with early (late 1800's – early 1900's) Sunday newspaper strips. Some are things you can find collected elsewhere, like the currently running Kin-der-Kids, but the bulk of the material is more obscure, including a lot of early work by cartoonists who would later become giants in the medium–George Herriman, George McManus, etc. I love seeing comics from this highly creative period before the "rules" were solidified.
At GoComics here.
Art Book – Gus Bofa – L'enchanteur désenchanté – by Emmanuel Pollaud-Dulian
This one's a bit tricky/expensive to get a hold of in the U.S., but it's well worth tracking down. Bofa was a WWI-era French illustrator who was a big stylistic influence on later generations of French cartoonists–most notably Jacques Tardi. This book seems to be part of a current Bofa rediscovery/renaissance going on, coming out just a year or so after a big Bofa retrospective at Angoulême. His influence aside, Bofa's a flat-out amazing illustrator and this 550 page book is full of beautiful illustrations in a variety of media and styles. The text is in French, but the artwork alone makes this one of my favorites of 2014.
Get it here.
Non-fiction Book – Comics: A Global History, 1968 to the Present – by Dan Mazur and Alexander Danner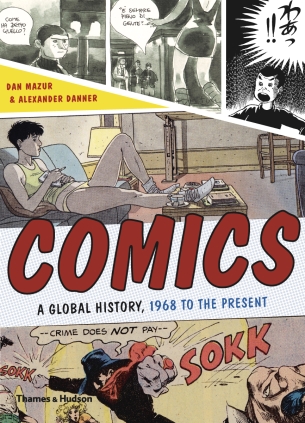 I've already written about this book in a post, but in a nutshell: This is a much-needed history of modern comics stretching from the late 60s to the present and–most important–covering a considerable swath of the globe. There's some material here about North American comics that you probably already know well, but the bulk of this book covers comics developments in France, Belgium, Japan, Spain, Mexico, and more–all areas we hear precious little about state-side.
Buy it here.
Online Reviews – Minicomic Minute by Jon Chad
There's a lot of interesting content at the new-ish comics website, Festival Season, but my favorite feature by far is Minicomic Minute. The writer/host is Jon Chad (himself the maker of some great minicomics) and in each installment he picks a notable minicomic and does a short 2-3 minute video review of it, showing off pages, production features, etc. It just started running in December, so there are only a few reviews posted as of yet, but I'm really looking forward to seeing this continue into 2015.
Collected here.
Comic Books – Detective Comics #35 and #36 – by Benjamin Percy and John Paul Leon
We don't get to see nearly enough interior art by the amazing John Paul Leon. I dig his covers for The Massive as much as the next guy, but I was really excited to see that he would be doing interior art for a self-contained two part Detective Comics story. The story itself is a solid Batman story of the sort you'd expect to see in Detective (a mysterious occurrence, Batman susses out the solution, culminates in a fight) , but the art is what really sold this in my book. Leon's got a loose lively line and an amazing mastery of spot blacks. Check these issues out if you like Year One-era Mazzucchelli or Jorge Zaffino.
Comic Books – The 'Nam #1-#12 – by  Doug Murray and Michael Golden
I bought a few issues of The 'Nam as a youngster back when it originally came out, but couldn't make heads or tails of it. Michael Golden had been coming up in "shop talk" conversation a lot recently, though, and so I tracked down most of the first 12 issues that I was missing and finally read all of the Micheal Golden issues. It's amazing in retrospect–remember, this was running concurrent to Marvel's licensed GI JOE comics–that a gritty true to life Vietnam War comic like this ever got off the ground, much less continued on for 90-ish issues. The 12 issue run is largely great stuff, albeit with a few hiccups when Golden jumps off art here and there. The first issue, though, that's penciled and colored by Golden with inks by Armando Gil has gotta be one of the best single issues of the 1908s.
Get them… well, by digging through dollar bins like I did, I guess. (There's a collection, but I'd avoid it unless it's done with the original coloring.)
GN – Beautiful Darkness by Fabien Vehlmann and Kerascoët
This is on tons of folks' "Best of 2014" lists so I don't have a whole lot to add here other than "I agree." Beautifully drawn, psychologically complex, funny at times/highly disturbing at others–I read this when it came out in the Spring and I'm still thinking about it.
Get it here.
Documentary – Stripped – Directed by Dave Kellett and  Frederick Schroeder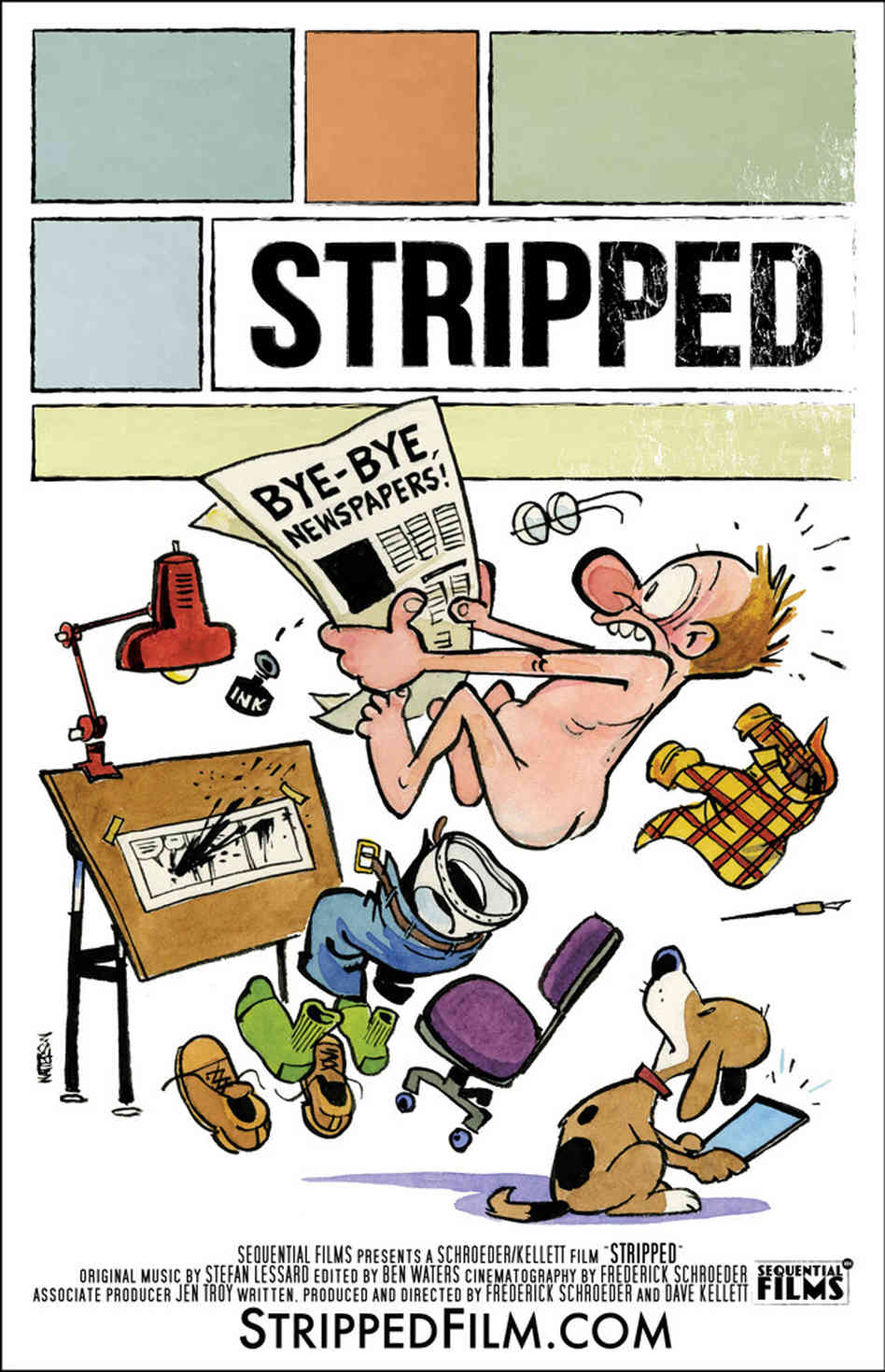 I have a few qualms about how some of the latter webcomics-related portions of this documentary are handled, but that in no way mars the rest of this film, which is wonderful documentary about newspaper comic strips and the cartoonists who draw them. We comics folk devote a lot of energy to engaging comic books and graphic novels, but seem to forget that newspaper comics are not only still out there, but are the most read form of this art form we all love. The array of people interviewed here is stunning–and even Bill Watterson came out of his secret underground lair to chat.
Get it here.
Video Tutorial – Character Design by Drew Hill
One of my many drawing-related New Year's resolutions is to really work on better character designs. I was digging around for tutorials on the subject and stumbled on this incredibly helpful process tutorial by character designer Drew Hill. He walks through the creation of a couple of characters from the idea phase to completed, rendered images. This video is packed with useful information.
Embedded above, or on Vimeo here.