It seems like as soon as you get done with one project, folks start asking you what your next project is going to be. After completing Midnight Sun toward the end of last year, I wound up taking a month or two off, just working in my sketchbook, getting some things done around the house and generally getting prepared for the arrival of my daughter, Marion. Since then, there's been the inevitable stage of adjusting to life with a child, but I'm getting back into a work groove of some sort now and I just handed in a three-pager that will appear in this year's caveman/dinosaur-themed Wide Awake Press book for Free Comic Book Day… and now I'm itching to get working on new projects.
After a bit of rumination, here's what it looks like I'll be working on comics-wise for the foreseeable future:
Project the first – Oyster War
(Edit – Since this page, which is from April of last year,  is being linked to from The Beat, here's a link to my post with the completed splash page shown on The Beat.)
This'll be my next solo graphic novel that I'll be submitting, likely to SLG, when it's nearing completion. When will that be? Who knows… but at this point I've settled on this particular project and have begun doing research and some character sketches, which I've posted here before. I wound up abandoning a few other potential projects that I'd considered to varying degrees since Midnight Sun was in its final stages, including: a science fiction-ish story set in modern-day Iraq; a second book of folk tales and tall tales, this one about North Carolina; and a 1930s football story based around the real life story of a controversial championship game in which my grandfather played.
The book is tentatively titled Oyster War, but of course that may change. I often read about writers who have whole plot-lines materialize in their heads from out of nowhere… but that ain't me. For me, developing stories is a methodical and arduous process that usually begins with a lot of reading and note-taking, then moves on to slowly building up a visual narrative through multiple drafts (a method I likely acquired as a student of James Sturm, whose teaching always emphasized the importance of editing—he wrote about his process recently here). At the moment what I've got is less a story, and more just the hunch that there's a good story to be found somewhere in the jumble of ideas I've been contemplating.
I've been reading a lot about the Chesapeake Bay at the turn of the century, and in particular about the town of Crisfield, Maryland. Around this time Crisfield was the center of a huge boom in oyster production, and with the building of a railroad into the town, it became the seafood capital of America… and with the influx of money inevitably came an influx of lawlessness, prostitution, corruption, crime, and all that other good stuff. For a while, Crisfield was a little like Deadwood, South Dakota in the 1870s, but instead of gold, it was oysters that were fueling the fervor. The oyster beds were such a valuable asset that an Oyster Navy, established by the state of Maryland in the late 1800s, was involved in skirmishes in which shots were fired as recently as the 1950s.
In and of itself this isn't necessarily a great story waiting to happen, but add into the mix that just across the bay is Smiths Island, founded and populated by Methodists. Already this idea of a decadent economic boomtown right across from a Methodist colony seemed like a great story setup—and a great opportunity to use the locations for some ham-handed narrative metaphor—but when I read that there were watermen who lived in the off-season as pious Methodists, but who in the oyster season would shift "loyalties" in favor of easy money oyster-tonging on the Bay and selling (and spending) their catch in Crisfield, I was sold.
Tone-wise, I'm looking forward to doing something less melodramatic and more fantastic than Midnight Sun, which is what I'm going to be going for with Oyster War. There's a lot of ripe fodder for this kind of story in lore of the Chesapeake Bay—like "Chessie" the alleged sea serpent of the bay, as well as numerous things piratical in nature. I'm imagining Oyster War (or whatever it winds up being called) as a sort of comics mix of Thimble Theater, Deadwood and Moby Dick.
Art-wise, I'm thinking that I'll do this in straight hatched black and white instead of the gray-tone style I've used for Midnight Sun and Farewell, Georgia.
I've clearly got my work cut out for me here… I'll be posting things regularly here as I develop the story, and I've been considering serializing the book online prior to publication, but I'll have to see of that's something I can pull off before I commit to it.
Project the second – Amelia Earhart: This Broad Ocean
I haven't officially "signed on the dotted line" yet, but I've got the official go-ahead to mention this project publicly: I'll be handling the drawing phase of production for a book called Amelia Earhart: This Broad Ocean, with writing and layout/thumbnails handled by Sarah Stewart Taylor and Jason Lutes respectively. The book is being published by Hyperion and is part of the same series, done in conjunction with the Center for Cartoon Studies, that's so far comprised Houdini: The Handcuff King and Satchel Paige: Striking Out Jim Crow. I think the John Porcellino book, Thoreau at Walden, is due out this month.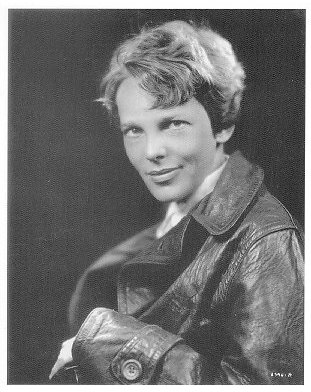 The story, by writer Sarah Stewart Taylor, is exactly the kind of biographical fiction that I really like: instead of talking its subject starting from day one and ending when she dies (as seems to always be the case in those horrible Hollywood "biopic" things), the book takes just one short, but pivotal, moment in the subject's life and uses it as a way to get at what makes the subject tick. Specifically, Amelia deals with Earhart's team's tricky departure from Trepassey Harbor, Newfoundland, from which they launched their 1928 transatlantic flight.
I've never really undertaken a collaborative project of this scope before, but given the subject matter (those who've read my last book, Midnight Sun, will see that this project is a good fit both ways) and the folks involved, I'm pretty excited to be involved in this.
I've known James Sturm, who's the head honcho of this Hyperion/CCS graphic novels series, for a while; he and I were at the Savannah College of Art and Design concurrently around the year 2000 or so, he a professor and I a grad student. He and I both put together NACAE/teachingcomics.org before he went on to found the Center for Cartoon Studies in Vermont. (A bit of trivia: I was the first, and by far the least notable, cartoonist to visit the school!)
I met Jason back in 2003 when I was teaching at the North Carolina Governor's school and I'd invited him down as a guest lecturer. He was living in Asheville at the time. I'd been teaching a comics program for the summer and was trying to keep things all artsy-fartsy and had the students reading MAUS and Ghost World and stuff like that… but of course what they really wound up being interested in was MODOK. They'd gotten a hold of my copy of The Journal of MODOK Studies and decided that MODOK was the funniest thing ever and so by the time Jason arrived all they could talk about was MODOK. I did a mini-comic about that whole episode called Hey, Teach that I was hoping to post here, but I don't think I ever scanned the art (back in the day, we did minis with a Xerox machine and a proportional scale—AND WE LIKED IT!) and I sold the originals a while back. Oh well… I'll dig around and see.
At any rate, I'm really looking forward to this project. Given that it's work-for-hire (pretty much) I'm not sure what kind of stuff I'll be able to post as far as my work process goes, but I'm sure I'll be able to put things online every now and again. It'd be interesting I think to take one "scene" and post it from beginning of the process to end, including the script, Jason's thumbnailed pages, roughs, pencils, etc. We'll see as things progress.
Amelia will certainly see the light of day before Oyster War, given that the story's written, thumbnails are in-progress and I'll be digging into the project pretty soon here once I get a few freelance odds and ends off my desk, but I'll hopefully be working on both stories simultaneously. How will I get all this done? I'm investing in one of these, and setting it up to donate to some group of people I really hate–like, say, those crackpots who picket soldier's funerals–to prevent myself from sleeping more than 2 hours a night. And also I'll drink lots of beer. And coffee. And coffee-flavored beer.