In past years I've done a list of all the comics (and comics-related stuff) I've read, with a short write-up for each item. This year, that's just not feasible given the amount of material I read and the time I have available… but here's my list for 2019 with a few comments on things here and there.
Note that there are most certainly books I've forgotten to add to my list that I'll no doubt remember after I've posted this, and there are for sure a ton of mini-comics in particular that I read quickly then prematurely filed in my office minicomic heap without recording them.
---
Charlotte Impératrice (FR) – Matthieu Bonhomme
Bonhomme is a French cartoonist who is sadly not well-represented in English translation. This book begins a multi-volume story of Carlota of Mexico. The art style is a bit more neo-realistic than previous Bonhomme stuff I've read and the coloring is really interesting: it seems like an attempt to pair flat coloring of figures with limited palettes and extensive use of gradients for backgrounds. Some of the big panels and spreads in here are mind-blowing. You see his process for one in this video.
Here – Richard McGuire
The basic conceit of the original strip this book's an expansion of is so brilliant that it's literally changed the formal language of comics. I enjoyed reading this, but there's an air of of "remaking Stairway to Heaven" to the project. Still, I'll take what I can get from McGuire, who doesn't do actual full-on comics very often.
The Invisibles volumes 2 & 3 – Grant Morrison
I've been a big fan of this series ever since it came out, but had not read the full third series until now. That third installment is a bit haphazard for sure, but the second volume–still my favorite volume–is pretty great even on a third (fourth?) read. I'm still listening along with The King Mobcast as they go through the series.
Born to be Posthumous – Mark Dery
Bezoar # 3 – various artists
Beneath the Dead Oak Tree – Emily Carroll
Audubon: On the Wings of the World – Fabien Grolleau
Atomic Empire – Thierry Smolderen and Alexandre Clérisse
This book is worth checking out for its aesthetic alone. As you can see above, it's got a late 50's/early 60's advertising art/UPA thing going on that's unlike pretty much anything else you're gonna see in comics (all done in illustrator, apparently, as you can see in this video). I was pretty surprised that this book didn't make more of a splash… but (inexplicably) all the promotion I could find for from its North American publisher didn't have any samples of the interior art! The story is fascinating and ambitious–and I admit I didn't fully get the ending–but it's definitely one of my favorites of the year.
Beyond the Windy Isles – Hugo Pratt
Celtic Tales – Hugo Pratt
Beyond the Windy Isles is absolutely great stuff–just what you want from Corto Maltese: seafaring proto-Han Solo adventures drawn in Pratt's exquisite "about to fly off the hinges" style… Which is what makes Celtic Tales such and odd bump in the Corto road. It's odd both story-wise and art-wise. The stories find Corto in land-locked European settings that don't really give Pratt a chance to show off his best chops, drawing stuff like vegetation and water. And, as weird as it sounds to say, some of the drawing in this volume does kind of fly off the rails. Things are sloppy. Characters are off-looking, Don't even get me started on the story where characters from Arthurian legend help Corto blow up a WWII sub (or something like that).
Guirlanda (FR) – by Lorenzo Mattotti and Jerry Kramsky
Frankenstein – by Junji Ito
The Creepy Case Files of Margo Maloo: The Monster Mall by Drew Weing
I, Rene Tardi, Prisoner Of War In Stalag IIB Vol. 1 – Jacques Tardi
Popeye, Vol. 1: I Yam What I Yam – E.C. Segar
Popeye, Vol. 2: Well Blow me Down – E.C. Segar
Breaking the Frames: Populism and Prestige in Comics Studies – Marc Singer
Arguably the most important book about comics in 2019–and for sure the one that stirred the most controversy. I wrote a post with my thoughts on it here.
Emma G. Wildford (FR) – Zidrou (Writer), Edith (Artist)
Lone Wolf and Cub Omnibus Volume 2 – Kazuo Koike and Goseki Kojima
Little Bird #1 & #2 – Darcy Van Poelgeest and Ian Bertram
Witch Hat Atelier vol. 1 & 2: Kamome Shirahama
My favorite manga of recent vintage. The first volume is slightly rote story-wise–it's the classic "regular kid discovers they're actually a super-special magic user and winds up at wizard school" bit–but, by the second volume things begin to differentiate from the standard "wizard school" narrative and get interesting. The really unique magic system outlined in the book is one of its best features, as is the gobsmackingly pretty Moebius-inflected (but still obviously manga) artwork.
The Art of Nothing: 25 Years of MUTTS and the Art of Patrick McDonnell – Patrick McDonnell
This is a big, beautiful retrospective art book celebrating the first 25 years of the newspaper strip, Mutts. It's filled with scans of original art, early advertising/illustration art by McDonnell, color guides for Sunday strips, and selected "best of" strips. Mutts is one of the few currently running truly great newspaper comics and it's great to see it get such a high-caliber milestone retrospective.
Sobek – James Stokoe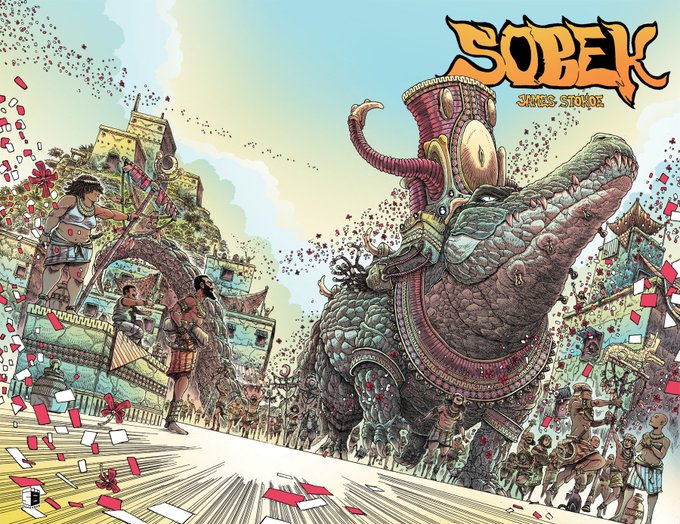 This one may be a bit difficult to track down, but it's well worth it. It's an abjectly ridiculous (and I mean that in the absolute best way) story about a crocodile god that begrudgingly heeds the calls of his worshipers to do battle with a rival deity. As with all things James Stokoe, the art is jaw-dropping panel after jaw-dropping panel of exquisite detail and bonkers color.
Pope Hats #6 – Hartley Lin
Oishinbo – Izakaya: Pub Food – Tetsu Kariya and and Akira Hanasaki
Le Journal de mon Père (FR) – Jirō Taniguchi
The Columbus Scribbler #3 – various artists
Bill Blackbeard – The Collector Who Rescued Comics – Jenny E. Robb & Alec Longstreth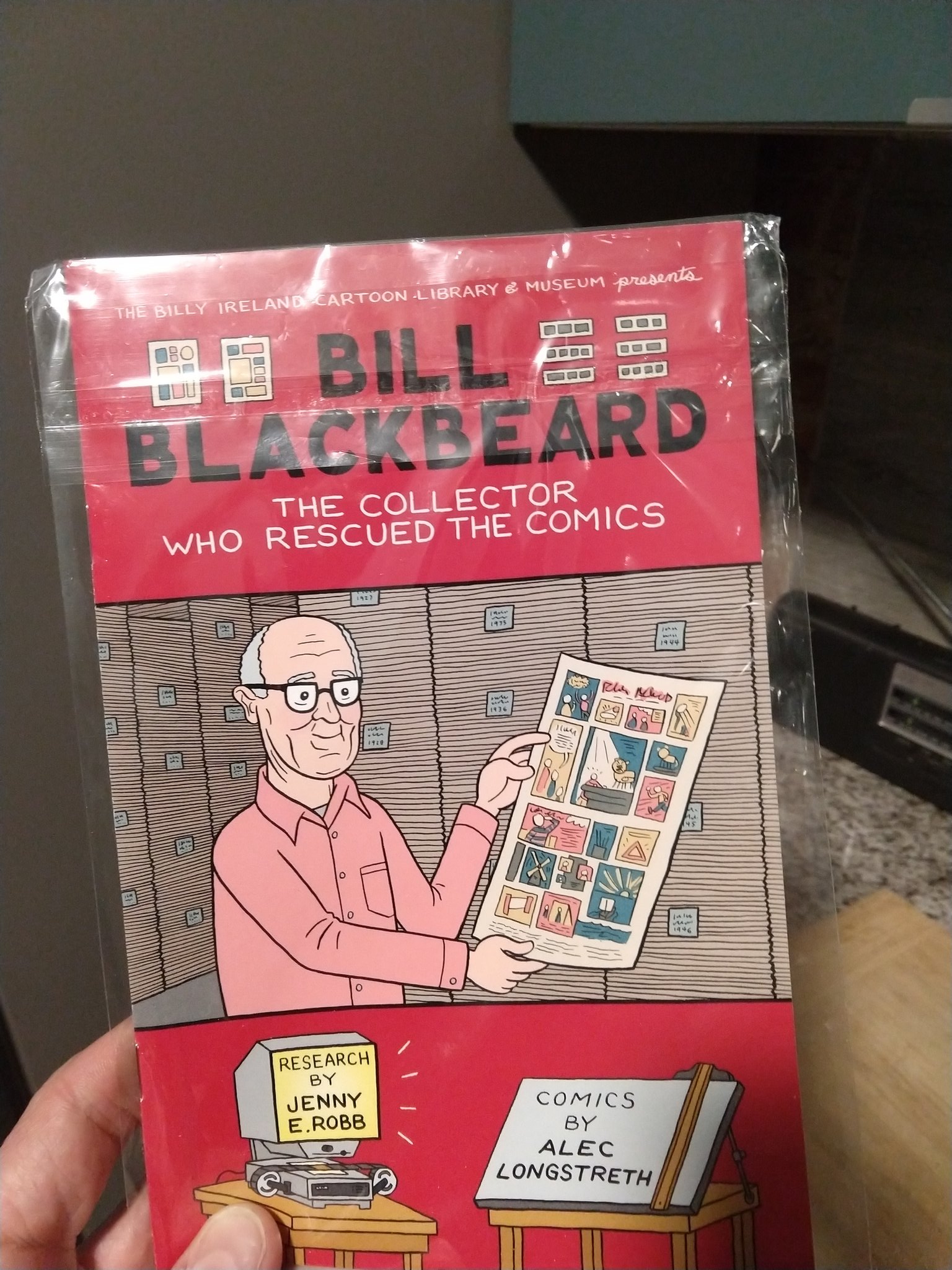 You've gotta get this one at The Billy Ireland Cartoon Library and Museum here in Columbus! If–like me–you were obsessed with the old Smithsonian Collection of Newspaper Comics as a kid, you know who Bill Blackbeard is. This short comic, illustrated by Alec Longstreth (Basewood, Phase 7), is a quick history of his life and influence, based on research by Billy Ireland's Jenny E. Robb.
Ready for Pop – Hurk
Hurk is apparently a staple of the indie comics scene in the U.K., but not well known here in the U.S… which is too bad, because this book is fantastic. As you can see, it's got a great 90's-esque indie comics look to it that's all but vanished here in the U.S. largely as a result of the ubiquity of color printing. The story's set in mid-60's London and centers on a pop singer who's been inexplicably shrunken. Nicely drawn, fun, and funny–pick it up if you can.
Wasted Space #1 – Michael Moreci & Hayden Sherman
Egg Cream #1 – Liz Suburbia
Meeting Comics #1 – Andrew Neal
Paul Moves Out – Michel Rabagliati
Pope Hats #1 – Ethan Rilly
Planetes Vol. 2 – Makoto Yukimura
The Pterodactyl Hunters in the Gilded City – Brendan Leach
Canopus #1-#4 – Dave Chisholm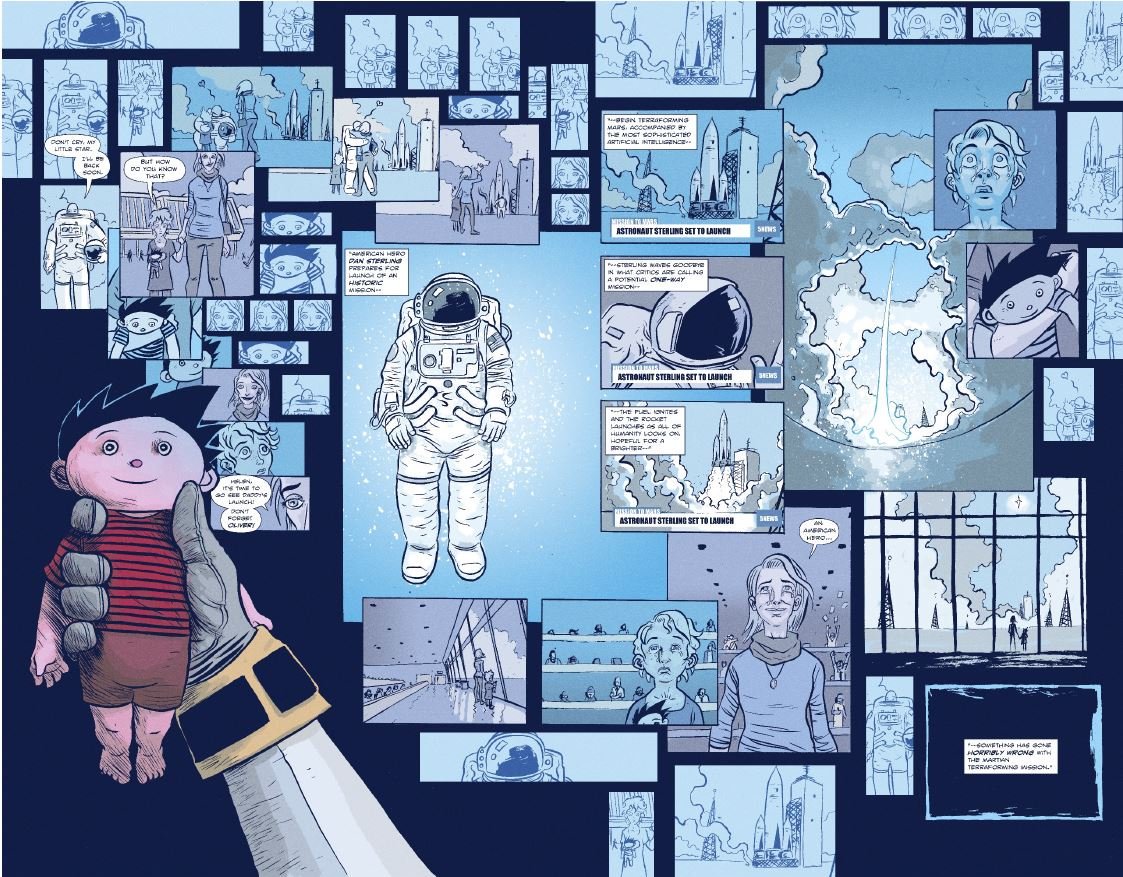 This series isn't coming out until February, but Dave's been posting bits and pieces to Twitter intermittently… and he generously let me read an advanced digital version of the series. This story ticks a lot of boxes for me: a SF story drawn in a somewhat cartoony style, great Solaris-esque premise, beautiful coloring, unconventional page layouts and storytelling. Definitely be on the lookout for this in a few months from Scout Comics.
Tintin and the Picaros – Hergé
So, this may or may not be the end of my couple years' long chronological read/reread of Tintin (I can't decide if I'm gonna bother with Alph-Art). This book seems to be largely considered the worst of the late-era Tintin books, but I found it more just rote than anything. Coming not too far after the heartfelt Tintin in Tibet and then the near-meta story that is Castafiore Emerald, this seems (aside from some typical late-era weirdness like odd close-up staging and characters behaving a bit out-of-character at times) this just seems like a standard "Tintin goes somewhere" adventure from the beginning of Hergé's career. Now the previous book, Flight 714… there's a terrible Tintin book!
---
See you next year… and read more comics!