(* No, not the dopey "DC multiverse" kind.)
So, here's another bookmark I found in my recent organizing: Evidence of a Parallel Universe.  This is from waaaay back, but the reason I bookmarked it wasn't necessarily for its scientific import: like most comics folk, my brain has pretty much one track–and it's comics.
When I saw this article, and a flurry of others around the same time on this topic, what I thought of was not the stunning scientific and philosophic implications of possible evidence in favor of the multiverse theory of reality, but rather, I began ruminating on what sorts of parallel universes there might theoretically be in which the history of comics is almost–but not quite–the same as it is in our world.  Here're some parallel "comics universes" I'd like to see:
World of Less-Cutesy Manga
Nowadays Manga is ubiquitous, but it wasn't always so.  American and Japanese comics developed in parallel, but in near-total isolation.  Much of early Manga, though–and particularly that of Osamu Tezuka, the "father of Manga"–was heavily influenced by the work of Walt Disney.   The Disney studio was of course the dominant animation house when this crossover was occuring post-WWII… but it didn't have to be.
In the early days of American animation, Disney was in close competition with another animation house, Fleischer Studios, for dominance of the market.    The latter procuced the Popeye shorts, the early Superman cartoons and many others including Betty Boop.  The Fleischer Studios  had a very different aesthetic than Disney; their character designs were rarely "cutesy" and some of their cartoons were downright bizarre.  For example, check out this 1933 version of Snow White starring Betty boop and featuring everything from a rotoscoped Cab Calloway to a team of dancing skeletons.
So, here's the first parallel universe I'd like to explore: a world where the Fleisher Studios–not Disney–was the dominant American animation house and was the big influence on Manga.  I wonder if there was more of this in the mix in the '30s:
… and less of this:
… whether we might have a whole lot less of this these days:
World of Less-Whiny Indy Comics
Todays non-superhero comics are (thankfully) bursting at the seams with stories of all stripes, but it arrived at this state via a path originiating with the underground cartoonists of the '60s and then moving from there through an unfortunate developmental stage in the '90s that was populated with more than its share of sissified self-confessional autobio comics.
Yeah, sure there are deniers, but the intertwining between indy comics and autobio seems pretty obvious to me and its modern roots seem to pretty obviously be in the '90s.  Just as a test, try naming the most successful GNs you can think of off the top of your head.  I'd go with maybe Blankets, Jimmy Corrigan, Cancer Vixen, Persepolis, Maus and Fun Home.  The only one of these that isn't autobio/memoir is Jimmy Corrigan.  And, yeah, I guess I'll wimp out and not "name names," but I'll let Heidi MacDonald and Katherine Farmar do it for me, since I'm a cartoonist myself and pissing off my peers is kind of a bad idea.
How did we get here, though?  My one word answer is this: Crumb.  Of all the '60s underground guys, Robert (now just "R." apparently) Crumb is the one who's had the most lasting influence on the non-superhero comics that followed him.  He's the one who established the template of the whiny, nerdy, no luck with the gals, lost in nostalgia, 78rpm record-listening, self-confessional cartoonist.  But what if he hadn't been the one with the lasting influence?
Among Crumb's contemporaries were folks who were 180 degrees from him both in their personalities and in the comics they produced–people like S. Clay Wilson, Robert Williams and Spain Rodriguez.   Spain's comics, for example, drew on the artist's experiences on the road as a member of the biker gang, the Road Vultures.  His main character, Trashman, didn't spend his time moping about women or reminising about ragtime music; he was too busy blastin' on fools!
So, here's the second of the comics parallel universes I'd like to see: a world where the lineage of the modern indy comics scene was rooted in a '60s underground dominated by bad-ass psychedelic shit-kickers, not self-confessional autobio.
World of Skinnier, Sweatier Superheroes
This one's pretty obvious, but…
Open pretty much any superhero comic book today and there's a good chance you'll encounter at least one character created by Jack Kirby–and, more important, the basic "visual language" of superhero comics you'll be looking at has its origins in Kirby's work for Marvel in the '60s.   Almost the entire stable of Marvel's key characters originate in the fertile brain of Jack "King" Kirby: Iron Man, The X-Men, The Hulk, The Fantastic Four.  Only two of Marvel's top tier characters, Spider-Man and Dr. Strange, were penned by a different artist: Steve Ditko.
Ditko was a man of strong–albeit unusual–convictions, and something (no one really agrees on exactly what) ruffled his feathers at Marvel and he left, just 38 issues into the Spider-Man series.  Kirby, though, continued at Marvel and pretty much everything that came after in the superhero genre would wind up owing a heavy debt of influence to Kirby's aesthetic.
What, though, if things had been reversed?  What if Kirby left early and Ditko remained?  That's the third parallel comics universe I'd like to explore: a world where the work of Steve Ditko, not Jack Kirby, establishes the basic "template" for modern superhero genre comics.
I think you'd see three main differences between this world an ours.
First, most obviously, an aesthetic difference.  Kirby's characters look huge, even when they're printed in a 2 x 3 inch panel.  They're big, they've got mass, they're impossibly burly.
They're also drawn in an incredibly dynamic way, seeming to almost leap off the page:
You can't blame Kirby for it any more than blame Led Zeppelin for Whitesnake, but clearly all paths to this kind of depiction of the male form go through Kirby: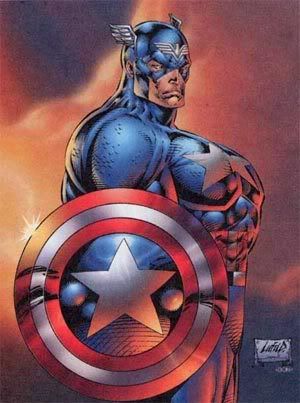 Ditko's characters, on the other hand, tend to look a little underfed by today's standards.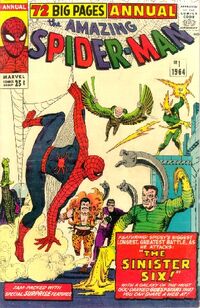 Second, I think we'd see a de-emphasis on physicallity and a bit more emphasis on the psychological.  As much as I love Kirby's characters from a design standpoint, I find it difficult to really ascribe to them much of an "inner life," no matter the quantity of Stan Lee-penned thought balloons.  On the other hand, Ditko–possibly because of his background in horror and SF comics–seems intensely interested in his characters psychological states.  I find it relatively easy to see a character like Peter Parker, as drawn by Ditko, as someone with actual inner mental states.  (I suppose it helps that a lot of Ditko's characters are kind of bug-eyed crazy and sweaty looking as well!)
Third–and finally–I'd bet comics in this "universe" would make a lot more use of the diagramatic/iconographic properties of the art form.  As much as I love a lot of Kirby stuff, I find Ditko's work more interesting, partially because of his tendency to draw non-literally and mix realistic drawing with symbology.  Probably the best-known example is the famous Spider-Man "half-masked face."
My favorite example of this, though, is the (in)famous scene from Witzend #3 in which Mr. A allows a criminal to fall to his doom.   Note how in the first panel Mr. A is knocking "Angel" off the roof onto a flag pole below… yet, in all of the following panels, Ditko manages to place the pole in our view, often directly between the two protagonists.  Literally, this is obviously not where the flag pole is spacially in the scene depicted, but in a daigramatic way that's where the needs to be, with the criminal's life visually hanging in the balance.