By most counts, Dick Blick is about the most popular online art supply store around.  With their combination of rock-bottom prices, good selection, great customer service, and free shipping for orders $200.00 or more (a depressingly easy-to-meet threshold when dealing with art supplies) Dick Blick is hard to beat.
If you look through their printed catalog or through their category menu on the site, you'll note that while they have store areas devoted to media from oil painting to "scrapbooking," (now a verb apparently!) there's no area set up specifically for us cartoonists.  Fortunately, cartooning is relatively low-maintenance when it comes to supplies, and most of the basic stuff can be found in the general drawing or painting sections: bristol board, erasers, watercolor brushes, India ink, etc.
Cartooning does, though, have a number of popular tools that Dick Blick really should carry, but doesn't–forcing folks like myself to have to order these items one at a time from other vendors… and given the extra shipping entailed to do this, I actually wind up buying even less stuff from Dick Blick.  So, here's my plea to Dick Blick: You carry a great selection of materials for professionals who work in pretty much any medium other than cartooning.  Why not do the same for cartoonists?  Finding a product like this when entering a search for "cartooning" is like finding a listing for a plastic dime-store ukulele on a serious music supply store: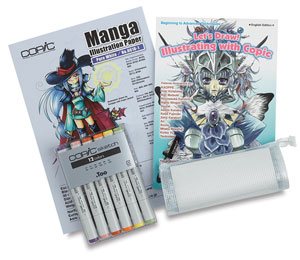 Here are a few items that any serious art supply store should really be carrying in order for us cartoonists to shell out some of our vast, vast wealth at said establishment:
Pentel Pocket Brush Pen
You can't swing a dead cat at a comics event with an "artists alley" without hitting one of these things.  They're incredibly popular with cartoonists because they operate almost like a real watercolor brush that one would normally ink with, but don't require a bottle of ink, since they're self-feeding and use replaceable ink cartridges.  They also yield a great dry-brush line when brushed quickly across the page.  To see what one of these things can really do, check out some of Craig Thompson's work.
Wanna try one?  You'll have to order one from WetPaintArt because Dick Blick doesn't carry them.  At one point I contacted their ordering department and said basically, "Everybody and their brother is buying these things from your competition; Why not make it easy on those of us who are already Dick Blick customers and stock this thing?"  I got a reply directing me to some disposable brush pen things that they carry, and when I pointed out that those are in fact different than the item I was suggesting, they just stopped replying.
Their loss… I, and everyone else, just buy them elsewhere.
Ames Lettering Guide
OK, it's not like you need to buy a ton of these things over and over, but given that even the lamest Michael's-type arts and crafts store carries these things, why not stock them–particularly since Dick Blick carries The DC Comics Guide to Coloring and Lettering Comics, which is going to tell you to buy one of these things right off the bat.  In the meantime, get yours at ArtStuff.net.
G-Pen Nibs
Whether you're into Manga or not, the recent availability of professional cartooning supplies from Japan (as a result of the popularity of Manga in the US) has been a fantastic blessing.  American inking nibs, lacking any real competition until recently, have become the cartooning equivalent of the mid-80s Ford Mustang: they're cheap, perform poorly, and break readily.  But, if you've ever tried a G-pen nib (or any of the other great Japanese dip-pen nibs now widely available domestically) you'll likely never go back to that fussy, fragile, cantankerous Hunts 102. But, you'll have to order yours from WetPaintArt or Deleter; Dick Blick's got a whole lot of nothing in this department.
Sanford Col-Erase Non-Photo Blue Pencils
These guys are about as standard an item as the lettering guide above–and similarly unavailable via Dick Blick.  Yeah, I know since pretty much everything's done with Photoshop today that using blue for under-drawings is fairly arbitrary.  One could use red or green, or pretty much any other color distinct enough from black to be eliminated via the Hue/Saturation control, but for whatever reason, NP-blue is still the preferred color for under-drawings on bristol.Blick's got regular NP-blue pencils; they've got Col-Erase pencils in various other colors; but no NP-blue Col-Erase pencils. Get yours from Utrecht or DiscountOfficeItems.